Grasses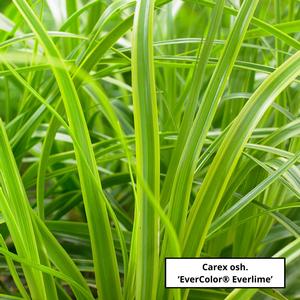 Grasses are an integral component of the perennial landscape. They provide long-season interest with summer foliage, fall flowers, and a dried winter appeal. They are very disease resistant and require little maintenance.
Our dormant grasses are potted in 3.5" pots, packed 24/tray. They are 1-year old plants, fully rooted, with large crowns ready to explode in spring.
Plant: Make sure pots are adequately moist prior to planting. Pots that are too dry when potting may struggle to absorb enough moisture to stimulate growth, especially in hot weather. Spread out any spiraled roots for quicker growth.
Grow: Use a well-drained soil that has good water-retention with a pH of 6 - 6.5. Most grasses grow best in moist soil but do not tolerate being too wet.
Temperatures: Grasses require warm temperatures, especially Miscanthus, in order to break dormancy. Grow in a greenhouse at a minimum 60F. Cool season grasses, such as Calamagrostis, Festuca, Helictotrichon, and Phalaris, can be grown cooler if so desired. If growing outside or in a cold frame, please delay your order until outside temperatures have warmed accordingly.
Light Levels: Grow in full sun, minimum 5000 foot candles. Too much shade will cause most grasses to stretch and become leggy.
Water: Keep evenly moist until growth appears. Once established, grasses can be allowed to dry out between watering.
Fertilizer: Grasses are moderate to heavy feeders. Once actively growing, feed with 100 - 200 ppm Nitrogen for best growth.
Early Flowering: Most grasses are long day plants and are marketed in spring without flowers. For quicker growth and earlier flowering, provide long days and grow at 68 - 72F.
Calamagrostis

- Feather Reed Grass

Strong vertical effect with showy summer plumes and attractive winter seed heads. Prefers moist soils and full sun.

Feather Reed Grass

Wide, white centers and narrow green margins (opposite variegation of Overdam); upright clumps emerge in spring earlier than most ornamental grasses.

[

More Info

]

Zone:
Height:
Size:
Qty:


4-9
3-4'
3" Plug
30


Feather Reed Grass

Attractive clumping grass with upright growth habit, green leaves, feathery plumes bloom early summer and mature to attractive tan-colored seed heads in fall and winter.

[

More Info

]

Zone:
Height:
Size:
Qty:


4-9
4-5'
3" Plug
30


Feather Reed Grass

Nice upward clumping habit, narrow green leaves with variegated white edge, feathery plumes with wheat-colored seed heads in fall and winter.

[

More Info

]

Zone:
Height:
Size:
Qty:


4-9
2-3'
3" Plug
30


Feather Reed Grass

Medium green clumping grass with a more open form; tall stems with fluffy bottle-brush like plumes gracefully arch from the clump, plumes open slightly pink and dry to a bronze hue, tolerates moist locations.

[

More Info

]

Zone:
Height:
Size:
Qty:


4-9
2-3'
3" Plug
30


Feather Reed Grass

Foliage has wide creamy white center stripes that are edged in green, a different twist on your typical Calamagrostis variety; late summer plumes will persist through winter, if not cut back.

[

More Info

]

Zone:
Height:
Size:
Qty:


4-9
3-'
3" Plug
30

Carex

- Sedge

Low mounding grass that prefers moist soil. Use as a ground cover or around ponds and streams.

Sedge

Highly variegated creamy-yellow leaves with dark green margins; nicely clumping with aching leaves.

[

More Info

]

Zone:
Height:
Size:
Qty:


5-9
12-'
3" Plug
30


Sedge

Neat mounding habit with green striped foliage that has orange margins in fall, winter and spring. In summer the margins turn to cream, gracefully arching, perfect for a splash of color in the shade garden.

[

More Info

]

Zone:
Height:
Size:
Qty:


5-9
12-18'
3" Plug
30


Sedge

Neat mounding habit with bright gold foliage in the sun or lime-green in the shade; gracefully arching, perfect for a splash of color in the shade garden.

[

More Info

]

Zone:
Height:
Size:
Qty:


5-9
12-18'
3" Plug
30


Sedge

Neat mounding habit with dark green leaves edged in lime-green; gracefully arching, perfect for a splash of color in the shade garden.

[

More Info

]

Zone:
Height:
Size:
Qty:


5-9
12-18'
3" Plug
30